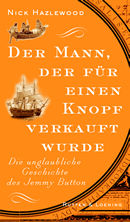 wer sich in den aufgelassenen zellen des ehemaligen gefängnisses presidio in ushuaia schon einmal umgetan hat
[so wie sauseschritt hier ...]
und
[da ...]
, der wird vielleicht auf ein geschmackloses

wandgemälde
gestoßen sein, dass die verschleppung jemmy buttons zeigt. Jetzt hat der historiker nick hazlewood ein buch über das schicksal des indianerjungen geschrieben. gute kritiken bislang ........
aus dem verlagstext:
Feuerland 1830: Vor vier Jahren war die HMS Beagle von England in See gestochen, um die Passage um Feuerland, eine Hauptroute zur Umschiffung des amerikanischen Kontinents, zu vermessen. Dabei trifft die Besatzung unter der Leitung von Kapitän Robert Fitzroy auf Feuerland-Indianer. Diese sind so fasziniert von den Fremden, daß sie für den Preis eines Perlmutt-Knopfs den aufgeweckten Eingeborenenjungen Orundellico an die Schiffsbesatzung verkaufen. Dieser, fortan Jimmy Button genannt, wird mit drei weiteren Eingeborenen nach England gebracht.

verlagsankündigung: aufbau verlag
---
auf alle fälle weiß sauseschritt, dass die geschichte jemmy buttons auch empörend falsch erzählt werden kann. in einer unappetitlichen mischung aus ignoranz, geschichtsfälschung und allgemeiner dummheit werden die entsprechenden ereignisse im presidio derart kommentiert:
the history of the region before expeditionaries introduced photography has been interpreted by artist nahuel mieres. the first european expedition sailing the beagle canal was under captain robert fitzroy. in his journal he relates how they were surrounded by canoes and saw smoke here and there.
he decides that it would be convenient to take some yamanas to england so that they were taught the christian doctrine and the english language.
Ich jedenfalls lese die geschichte als misslungenes beispiel europäischer domestizierung von unterstellter wildheit.
[ siehe auch: slave decendants to sue lloyd?s...]