13 july 1941. death to faschism - liberty to homeland. these old signs can still be seen if you travel to the montains of wild montenegro: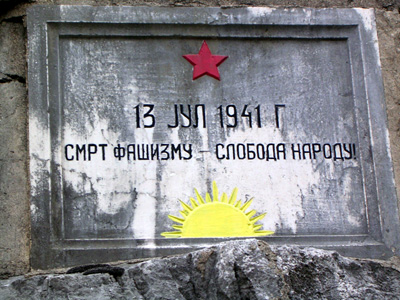 nicht das erste mal in montenegro, aber trotzdem bin ich immer wieder erstaunt, mit welch wohltuender langsamkeit hier die welt passiert. und ich denke, man/frau sollte dies zunächst einmal nicht mit langen kommentaren zerreden. deshalb nur einige landschaften der ruhe ....
today in the news, only three days after my visit to the headquarters of the zemun mafia: the man who allegedly masterminded the assassination of serbia's prime minister surrendered yesterday after a year on the run. police sources in the capital belgrade said milorad lukovic, known as legija, had given himself up in a suburb of the city. no details were immediately available. I found this

article in the guardian.
über ein jahr war er untergetaucht, am sonntagabend stellte sich der mutmaßliche hauptorganisator des mordes an dem serbischen ministerpräsidenten zoran djindjic, milorad lukovic "legija", plötzlich der polizei,

berichtet die presse.
lohnend in diesem zusammenhang auch der exkurs zur rolle der verschiedensten gruppierung der mafia auf dem balkan, wie sie anläßlich der ermordung von djindjic von heise ins netz

gestellt
wurde.
---
merkwürdige koinzidenz: nur wenige tage bevor sich der pate des mafia clans aus zemun den serbischen behörden stellt, gehe ich in dem leicht verschlafenen vorort belgrads spazieren. auffällig wieder die vielen nationalistischen wandschmierereien. von der einstigen blüte zemuns als handels und garnisonsstadt (1717 von den habsburgern als vorposten gegen das osmanische reich gegründet) ist kaum mehr als die alten, verfallenen gebäude erhalten geblieben. alles wirkt ruhig, verschlafen und ein wenig vom frühling überrascht. der kellner in dem kleinen gassenlokal am hauptplatz fragt mich freundlich lächelnd, was ich hier in zemun mache. sightseeing, antworte ich ein wenig verschämt. als ich mit dem taxi zurück ins zentrum fahre, kommen wir am hotel jugoslavia vorbei. der bombentreffer, der arkans kasino zerstört hat, ist noch immer deutlich sichtbar.

monday 3 may : 14th world press freedom day. on this occasion, reporters without borders will release its

2004 Annual Report - "freedom of the press throughout the world" , as well as the lists of the 37 predators who committed press freedom violations and a new photo album of dominique issermann.
reporter ohne grenzen verdanken wir auch den bericht zur überwachung des internet, auf den sauseschritt
[an anderer stelle ...]
aufmerksam gemacht hat.