in 2001, fema warned that a hurricane striking new 0rleans was one of the three most likely disasters in the u.s. but the bush administration cut new orleans flood control funding by 44 percent to pay for the iraq war,

reports der spiegel (english version).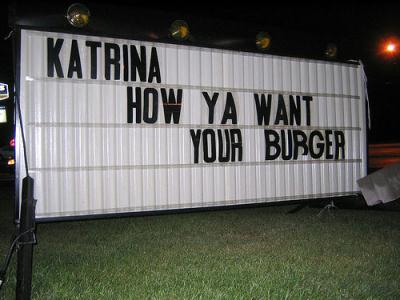 großmutter hat damals, als sauseschritt noch unverdorben, fast unschuldig und ein wenig sehr naiv war, immer vom kommenden weltuntergang erzählt. dieser bestand meist aus donner, dunklen wolken und viel, viel krach. die daraus entstehende kindliche vorstellung vom ende aller welten hatte erst dann seine bedrohliche dimension verloren, als im schulunterricht nestroy gelesen wurde, jenes couplé in

lumpazivagabundus
, in dem der kommende komet besungen wurde:
da wird einem halt angst und bang, die welt steht auf kein' fall mehr lang.
nun ist die apokalypse wieder da. wir haben uns zwar schon ziemlich daran gewöhnt, aber wenn eine millionenstadt dem erdboden gleichgemacht wird, dann beginnt die geschichte schon ein wenig heikel zu werden.

der standard berichtet
von den wirklichkeit gewordenen weltuntergangsfantasien im football stadium von new orleans und auf flickr sehen wir säuberlich zu clustern vereinte

bilder
. nach 9/11 und den folterbildern aus dem irak nun dies aus dem land der freiheit, der demokratie und des fortschritts. aber andrerseits (und sauseschritt ist unerlaubterweise sehr zynisch): warum nicht auch in der sgn. ersten welt? nestroy kannte das spiel mit der wurschtigkeit sehr sehr gut!