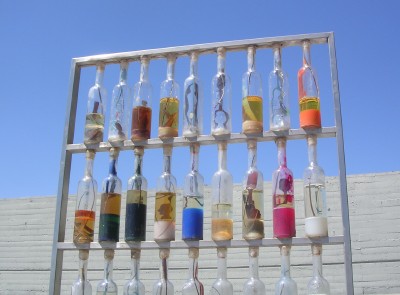 only recently sauseschritt found that piece of research methodology on the internet. it refers to the style of living more and more people are finding themselves forced to cope with, amongst them sauseschritt: in the age of globalisation the powers of nation states are crumbling away, borders are increasingly porous whilst people are becoming more and more mobile. in consequence, 'the world is on the move' (baumann 1998). will the 'century of refugees' (grossman and tartakower 1944), as the 20. century has repeatedly been called be followed by the 'century of nomades', as schlöogel (2002) indicates ...
der begriff von den modernen nomaden fällt, als uns der bus am flughafen in thessaloniki entlädt. nein, keine touristen, sondern eine gruppe von geschäftsreisenden, die wieder an ihre arbeitsplätze in paris, wien, turin, belgrad, zagreb und bukarest zurückkehren. mit den unvermeidlichen trolleys bewaffnet, die mobiltelefone am ohr, unaufgeregt, müde. sie hassen das applaudieren der touristen beim aufsetzen des flugzeuges auf der landebahn, sammeln eifrig meilengutscheine für ihre vielflieger programme, basteln in den lounges an ihren power point präsentationen und sehnen sich nach nichts so sehr wie auf ein komplettes wochenende ohne reisebewegung. vor allem die ewige frage: "do you have internet access, I am expecting an important message!?" auf sauseschritts frage, ob wir denn zu einer wie immer definierten elite gehörten, antwortet die sonst sehr verbindliche und freundliche kollegin aus turin mit einem entschiedenen: "we are shit ...."
wo ist dann zuhause, wenn alles sich bewegt? und wo ist das reale, wenn das virtuelle einziger ständiger bezugspunkt bleibt. während wir uns ständig bewegen, ist das internet immer da, unsere mails immer am selben ort, von (fast) überall zugänglich: von unseren blogs ganz zu schweigen! der französische geschwindigkeitstheoretiker

paul virilio
hat sich zu diesem und ähnlichen phänomenen schon in den achtziger jahren seine gedanken gemacht. seine thesen zur fluchtgeschwindigkeit unseres zeitalters: einfach

lesenswert!