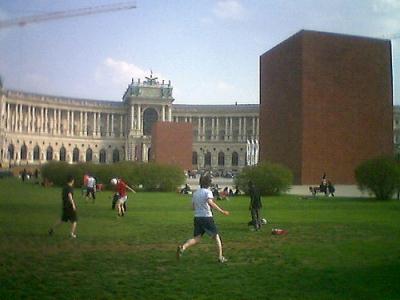 12 march 2005 was also the date on which the large-scale project in the public space "25 peaces" – commemorating a dramatic period in vienna's history – was launched in the framework of the 2005 anniversary celebrations. at vienna's heldenplatz the equestrian statues of prinz eugen and archduke karl were for example "walled in" with slabs and brick structures. during the last years of ww2 the statues had been protected against bombs (splinters) in large brick cubes. this installation and a huge gravestone with the inscription "to the victims of national socialism" put up behind the balcony of hofburg where hitler had the crowd cheer him in 1938 can be seen until 8 may 2005.


reports the austrian federal chancellery. sauseschritt made his own observations.
seit 12. märz sind die standbilder am heldenplatz schon "eingemauert" und sollen uns zum nachdenken anregen. sauseschritt, der doch ganz in der nähe seinen diensten nachgeht hat sie erst heute wahrgenommen. wie schon letzten freitag war wieder nur die handgurke dabei.

eingemauert
sind die denkmäler aber nicht richtig, sondern offenbar auf einem holzgerüst mit ziegelimitationen aus plastik verhüllt. so absurd das auch klingt: damit nimmt sich die intervention selbst die kraft und monumentalität der irritation. wer die beiden bescheiden angebrachten hinweise nicht liest, wird wohl annehmen, man habe zu reperaturarbeiten schamvoll verhüllt. keine erratische ziegelwand versperrt den zugriff auf den von österreich so überschätzten
[prinz eugen ....]
so interessiert viele passanten eher die güte und beschaffenheit des materials als die offenbar angedachten irritationen. kann man sich gemütlich anlehnen? hält die wand dem prellball stand? sind das denn wirklich ziegel? hätte man/frau denn steinmetzarbeiten nicht anders behübschen können? beim stöbern in der projektwebsite stößt sauseschritt dann auf den text, der offenbar ebenso bemüht didaktisch wie im künstlerischen sinn naiv ist - spektakel also bloss und ungefährlich wie jene plastikwand:
25PEACES – die zukunft der vergangenheit: sich im "gedankenjahr 2005" keine eigenen gedanken zu machen, wäre die pure gedankenlosigkeit. unsere projektgruppe wurde eingeladen nachzudenken, wie man die österreichische bevölkerung mit aktionen im öffentlichen raum ermuntern kann, mitzudenken.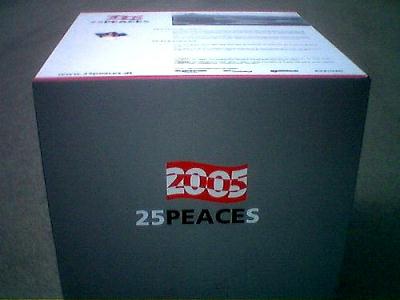 ****würg***** dann lieber doch ein paar anarchisch angebrachte graffities, denkt sauseschritt und weiss, dass die harmlosigkeit der sgn. intervention ganz sicher auch von unserem werten außenministerium aus ebendiesem grund gutgeheißen wird.