if you're norwegian and wonder what a blog is, check out bloggskolen. if you are norwegian and know what a blog is, perhaps even use it a lot and have done research on the topic, it's a lesson in how blogging looks from the outside, way outside academia,
writes

torill mortensen and provides us with the

respective link. although sauseschritt is not able to understand, he does recommend it to t. hoping that this offer might convince the unconvinced.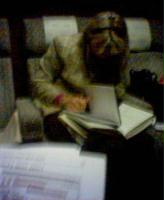 sometimes travelling by train is a way to stop time running too fast. on sauseschritts way back from salzburg, having finished some work at the famous

salzburg seminar, it happened: a lady entered the compartment and all of a sudden both of them were heavily involved in complaining about modern business life. on the one hand people being exploited totally with respect to their physical, emotional and mental resources, on the other hand people who miss work (underemployed, unemployed). turbocapitalism demands this speed that really kills: no patience for those, who react too slow and no time to create things carefully. when will the economic, political and social system implode finally? what will we do not to burn out too early?
wie könnte es denn anders sein, auch über die email flut und deren bewältigung wurde gesprochen. besonderen anstoß nahm die dame an der unsitte völlig unverständlicher betreff zeilen. ein beispiel aus dem alltag:
...WG: COEST MD 457/04 Proposition de...
ein mail mit einer derartigen betreffzeile würde die dame aus dem zugabteil kaltblütig ungelesen löschen.
was lernen wir daraus? was du in einem satz nicht sagen kannst, ist ohnehin uninteressant. andererseits: denken und handeln brauchen zeit.

das projekt dient der gewinnung, ausbildung und betreuung von patinnen und paten, die bereit sind für unbegleitete minderjährige schutzbedürftige persönliche verantwortung zu übernehmen. das projekt wird von der

asylkoordination österreich in kooperation mit unicef durchgeführt und sucht die enge zusammenarbeit mit dem jugendamt wien ( ma11 ), anderen zuständigen behörden, dem unhcr, unicef und diversen unterbringungseinrichtungen. das Projekt connecing people dient primär dem wohle von unbegleiteten minderjährigen flüchtlingen. es soll die jugendlichen darin unterstützen, perspektiven für ihren aufenthalt in österreich zu entwickeln und will einen beitrag leisten, dass sie sich besser in der für sie fremden umgebung zurechtfinden können.
aufmerksame falter - leser/innen kennen jenes bild auf den letzten seiten der wochenzeitschrift: freundliche erwachsene und lächelnde minderjährige flüchtlinge. was jedoch dahintersteckt:

hinsurfen,
anschauen, gut überlegen und mitmachen ....