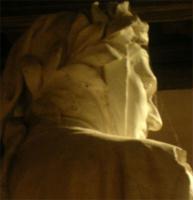 i have had built in the euganean hills a small house, decorous and elegant: here, I shall spend the last years of my life peacefully, remembering and embracing absent or distant friends with tenacity of memory, writes

francesco petrarca on january 6, 1372 and adresses a house still existing in the small medevial town of

arqua petrarca. one wonders about the quality and the atmosphere of such buildings especially when staying in the nearby spa of

abano terme, which assembles the uggliest buildings which sauseschritt was able to see for years. in any case, petrarcas house and town are worth a visit ....
schon 2 jahre später stirbt petrarca: nicht viel zeit ist ihm geblieben in jenem haus, in dem er sich nach langen jahren der wanderschaft als kranker mann niedergelassen hat. es ist ein lohnenswerter besuch, denn nach der in beton gegossenen betriebsamkeit der abano terme strahlt das haus und das nach dem dichter benannte städtchen einen zauber aus, die beeindruckend ist. nur schade, dass sauseschritt sie aufgrund der konferenz erst bei einbrechender daemmerung besichtigen kann. der wunderbare ausblick auf die hügel, die kleinen laeden der altstadt und dann

eine skurrile geschichte:
mitten auf dem kirchplatz steht der sarkophag aus rosa veroneser marmor mit den überresten des dichters, schon sechs jahre nach dessen tod angefertigt wurde. anlässlich der 700 jahr feier öffneten die italienischen sachverständigen den sarkophag, um die echtheit des inhalts zu verifizieren und mussten entdecken, dass der kopf einer frau gehörte. war petrarca etwa ....?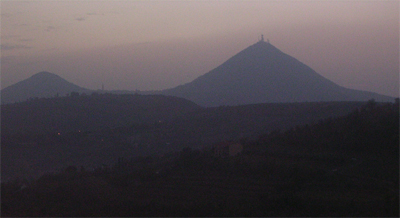 © all photos of this entry are taken by the author and explicitely subject to the GNU free documentation license