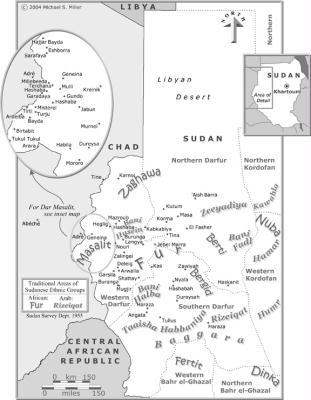 this report documents and analyzes the ongoing violence and the government's claims of progress to address the human rights crisis in darfur in more detail based on recent human rights watch research in chad and darfur. in some cases, the precise locations of incidents and other identifying details have been withheld to protect the security of the victims and witnesses,
writes

human rights watch and makes us aware that we still know so little about the background of the tragic events in sudan.
darfur - ein weisser fleck auf der landkarte der globalisierung. nur der eskalation an gewalt ist es zu verdanken, daß mediale eindrücke und oberflächliche bilderwelten entstanden sind. aber was steht uns, den bewohner/innen der metropolen, an konkretem wissen über die realen wurzeln der ereignisse zur verfügung? ein paar wenige stichwörter, wie khartum, berittene mörderbanden, ärzte ohne grenzen, un-resolution und natürlich, wie in all diesen fällen,

nachbar/in in not
. um nur wenig geld kann man/frau menschenleben retten, und ein wenig die eigene unruhe befrieden. woher kommt diese unruhe in uns, wo wir doch so zufrieden und ruhig leben könnten?
selbst der jüngste artikel in

le monde diplomatique
macht sauseschritt nur bedingt schlauer, denn zu komplex sind die zusammenhänge in einer region am rande dieser welt: alex de vaal bezeichnet das versagen der zentralregierung in khartum, die instrumentalisierung der "arabischen" nomaden gegen die "afrikanischen" bauern und die großmachtambitionen des lybischen staatsschefs gaddafi als ineinander verschränkte ursachen des derzeitigen konflikts. es klingt wie ein vexierspiel von einem anderem stern, was wir derzeit als mediales märchen in all seiner grausamkeit erleben dürfen. wie weit sind wir unserer eigenen welt entfremdet, um begreifen zu können?
hier einige krücken zum verstehen:

international crisis group

darfur.info.org

guardian: special report sudan