we saw them in santiago de chile (almeda, 2003), vienna (museumsquartier, 2004) and finally

chronistin made us aware where to find them on the net:

fotos of yann arthus-bertrand.
for all those, who do wish to learn some viennese: "alles holler" should be included in their stock of phrases. looking into the dictionary we find that the viennese word "holler" translates to the german word "holunder", which is "elder-berry" in english. but, surprisingly "alles holler" translates to "all stupid". this should not keep you from cooking a so called "hollerkoch" !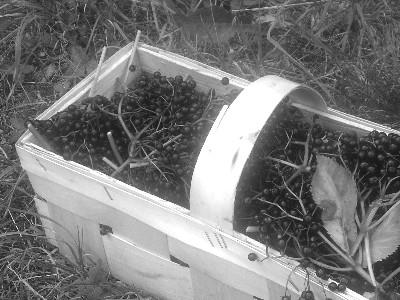 praktische regeln beim sammeln des holunders: (1) nicht mit anderen (mitunter giftigen artgenossen) verwechseln; (2) die dolden mit einem messer abschneiden und erst zu hause rebeln; (3) alte kleidung anlegen, denn die dinger sind so entsetzlich rot, dass sie mitunter auch zum färben von rotwein verwendet werden; (4) niemals in plastik- oder stoffsäcken sammeln, denn dann tropft es ganz gewaltig; (5) keinesfalls dem verlangen nachgeben und rohe beeren essen, die dinger verursachen roh gegessen große übelkeit.

und ein wenig kochhistorisches: damals, als man noch notwendigerweise die deftigen varianten des hollerkoch bevorzugte, verwendete man brot zum verdicken der gekochten beeren und wohl auch jenen wohlschmeckenden, fetten rahm, den man/frau heutzutage nur mehr direkt vom bauern beziehen kann. arrow root und joghurt tuns jedoch auch, denkt sauseschritt angesichts ewaiger diätvorschriften bedauernd. lang darf man/frau sich aber mit dem sammeln nicht mehr zeit lassen, die beeren sind nämlich schon sehr reif.
REZEPT HOLLERKOCH: braunen zucker, wenig wasser, zimtrinde, nelkenblüten und zitronenschale (unbehandelt) etwa fünf minuten aufkochen lassen, dann gerebelten und gewaschenen holunder zugeben, ebenso einige entkernte zwetschken (maximal 1/3 der holundermenge). etwa 10 minuten langsam köcheln lassen, inzwischen joghurt (rahm/schlagobers/sahne/milch) mit stärkemehl (maizena/ arrow root/weizenmehl) oder schwarzbrot verrühren und dann mit obstmasse kurze zeit eindicken. warm servieren. schmeckt auch kalt ganz vorzüglich.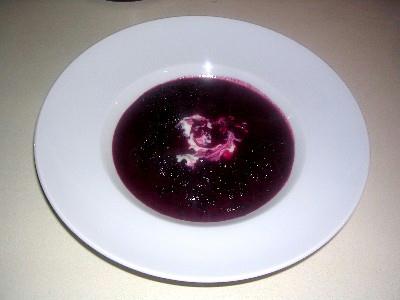 © all photos of this entry are taken by the author and explicitely subject to the GNU free documentation license