jimmi does it, [ sauseschritt ...] does it and lots of others do enjoy it. maybe they have different motivations but they keep the sentimental mood alife. Is this politically correct, may some of us little perverts consider, or what is behind this funny lil secret feeling? sauseschritt made up his mind in russia .....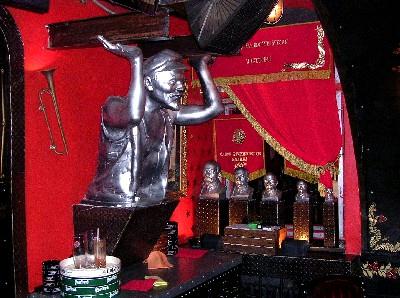 ein wenig theorie zu beginn: feststellen läßt sich, daß die retro-sucht seither nicht nur ungebrochen fortbesteht, sondern eher angeschwollen ist. es gibt inzwischen eine ganze bandbreite historischer markenartikel, von den oft unausgesprochenen defiziten unserer gegenwart generiert. freilich ist zu bemerken, daß die besonderen 'renner' unter ihnen sich generationenspezifischen erlebnissen und wahrnehmungen verdanken. waren in den 80ern die 50er en vogue, so verschob sich in der folgezeit die attraktivität der jahrzehnte parallel zum erfahrungshorizont nachwachsender jahrgänge; die entsprechenden 'wiederentdeckungen' erfolgten zwangsläufig ("die swingenden und protestierenden 60er" -- "die alternativen 70er" usw.). meint dirk schindelbeck auf

parapluie
. sollten sich diese einsichten auch auf das sentimentale getue der der post 68er beziehen?
---
in st. petersburg landet jedenfalls sauseschritt jedenfalls spätabends in einem lokal namens
lenins mating hall (sic!)
auf der pereulok grivtsova. im magazin der
[pulkovo airlines ....]
ist der obskure ort folgendermaßen beschrieben: the restaurant contains hundreds of busts of lenin of various sizes (...) restaurant in the style of soviet informal pop art (...) the best examples of soviet and european gastronomy: from live oysters to moskalsky borshch with real ukrainian salo (pork fat).
die verwirrung, die der kitsch des lokals bei sauseschritt hinterläßt, entspricht dem gestammel des werbetextes. retro mag ja manchmal seine berechtigung haben, aber was hier den besucher/inne/n dargeboten wird, ist fast schon die erlebniswelt von las vegas. in kleinen leninschädeln auf den tischen stecken rote servietten; das weibliche servierpersonal posiert in äußerst knappen pionieruniformen; auf den die wände säumenden flachbildschirmen wechselt softporno mit szenen aus dem politleben lenins, stalins und breschnevs. sauseschritt ist entsetzt und trinkt zuviel. am nächsten tag findet sich jedoch ein wenig erholung bei alten straßenschildern. der urlaub ist vorerst gerettet.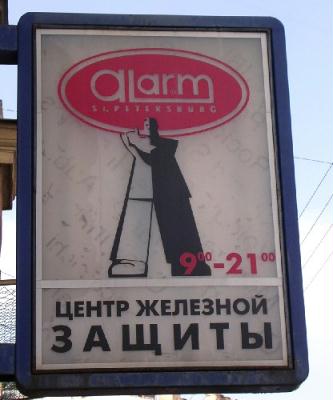 © all photos of this entry are taken by the author and explicitely subject to the GNU free documentation license