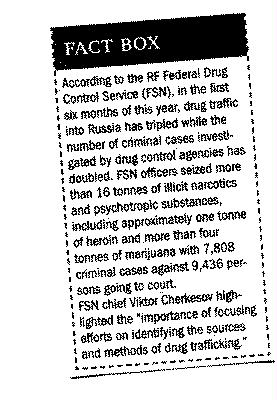 during my stay in moscow sauseschritt had the opportunity to read an article in the moscow news

on drug trafficking between moldova and russia. its worth to have a closer look at it, due to the different truths hidden between the lines.
selbst einem aussenstehenden wie sauseschritt wird beim lesen dieses artikels von igor naidenov ein wenig unbehaglich zumute. was ist die wahrheit? vielleicht auch das, was eigentlich mit diesem artikel verschwiegen werden soll? denn mit keinem wort erwähnt naidenov in seinem bericht über die fahrt mit dem

zug nr. 342, der chisinau mit kiev und moskau verbindet, transnistrien, die eigentliche relaisstation des drogen-, waffen- und menschenhandels in der region. stattdessen ist von den ukrainischen zollbeamten die rede, die den zug kaum kontrollieren und auch von der ohnmacht der russischen grenzbeamten, denen kaum genügend zeit zur verfügung steht, um den erfindungsreichen drogenschmuggel effektiv unterbinden zu können. das eigentliche problem aber ist jenes des verhältnisses von zentrum und peripherie: almost everyone going to the capital for seasonal work carries some drugs. yet it is difficult to call them drugrunners. to them, this is a kind of currency to tide themselves over in the city until they find a job and get their first wages. the main thing is to bring in the stuff and then their fellow townsmen will advise them on how to push the lot and not get caught.
war es nicht die russische politik, die an dem machtvakuum in transnistrien interessiert war? und sind derartige probleme damit auch nicht hausgemacht, herr naidenov? die

verhandlungen zwischen tiraspol, moskau und chisinau drehen inzwischen endlos scheinende spiralen.