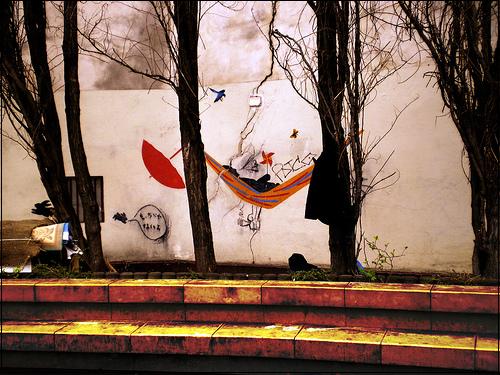 inzwischen hat sich das prekariat ja auch bei uns eingebürgert, ist sozusagen normalzustand geworden; eine genaue begriffliche klärung ist sauseschritt bis dato jedoch nicht untergekommen. bis auf
kellerabteils posting
freilich, das ich gerne weiterempfehlen will:
(...) Wenn wir heute von prekären Verhältnissen sprechen, so hat das kaum damit zu tun, dass die Häufung wenig abgesicherter bis ungesicherter und im weiteren Sinne unsicherer Lebens- und Arbeitsverhältnisse ein historisches Novum darstellen würde oder im Kapitalismus nicht immer schon eine strukturlogische Konsequenz des kapitalistischen Systems gewesen wäre, sondern viel mehr damit, dass in unserer neoliberalisierten Welt die Prekarisierung unserer Lebens- und Arbeitsverhältnisse betrieben wird (...)
today, on his long way with metro 1 sauseschritt had the opportunity to listen to an interview with two elderly gentlemen
on his favourite radio station npr
. not only that their new album is out, they also have some interesting things to tell. E.g. what happens when you make love while (as a man) wearing pinkish, furry hair extensions, two metres long and ridiculously looking? it all reminds us, that life is far from boring. whatever you do in your offices, fitness centres and business lounges: do not give up your spirit and soul. instead, listen to the new album of the punk legends mick jones and tony james.