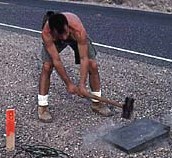 recent issues of clip it -> skip it: [1 ...] [2 ...] [3 ....] [4 ...] [5 ...] [6 ...] [7 ...] long time no see, but now again with you: some really disturbing and irritating news from sauseschritts clipboard!
die fünf irritationen der woche:
1. ganz getraut hat sauseschritt wikipedia ja nie, aber es trotzdem oft mit überzeugung verwendet.

das allerdings
verstört!
2. sind china und indien wirklich an allem schuld, oder sollte mann/frau am globalen

approach
arbeiten?
3. unfassbar, was männlicher grössenwahn so

bewirkt!
aber sicher sind auch daran die frauen und potentiellen mütter schuld. schon wieder dieses indien an der technologiefront!
4. seit meine grossmutter das kleine österreichische boulevardblättchen abonniert hatte, stiegen ihre gewaltphantasien ins masslose. sollte der gegenwärtige mediale konsum

ähnliche phänomene
hervorrufen?
5. apropos konsum: jetzt hab ich mir vor kurzem ein powerbook angeschafft und

schon hab ich wieder altgerät
zu hause! pfui, apple!!!!!
das war es dann (hoffentlich) für diese woche.