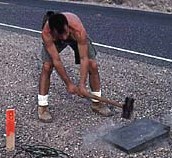 recent issues of clip it -> skip it: [1 ...] [2 ...] [3 ....] [4 ...] [5 ...] [6 ...] after having worked for so long on sauseschritt´s first podcast, which is supposed to be released during upcoming week, now the seventh round of this column is ready to go: following the july 14 vevents in france, although they really have happended a couple of years ago, you might wish to listen to the

marseillaise (quick time).
hoffnungslos, die alten linken, wenn auch durchaus

liebenswert
: denn was bleibt uns noch im alter! hoffnung, vielleicht: immerhin haben diese woche viele kolleg/inn/en an den wahnsinn von srebrenica erinnert und vielleicht auch einige lehren für die unmittelbare zukunft

gezogen
. allein, der pessimismus

überwiegt
, auch angesichts der

zähen fortschritte
in der region. zu viel geschichte einfach dort. und immer wieder

bad news
.
außerdem, die sache mit der geschichte ist heikel, wie wir österreicher/innen wissen: da
[spricht ....]
in österreich die frau außenministerin jene kalmierenden worte zu den sgn. trümmerfrauen und schon sind die kritikerinnen zur

stelle
und kritisieren. selbst die österreichische sozialdemokratie kann da trotz aller bemühiungen nur ins ideologische fettnäpfchen

treten
. angewidert wenden wir uns ab: hin zum gewinnbringenden

bücherlesen
(ja, sozialkapital!!!) oder in die privatheit unserer

weblogs
, auch wenn schon niemand mehr davon etwas wissen will. so, und nun gib ruhe, sauseschritt: es ist schließlich fast zwei uhr morgens und wochenende.