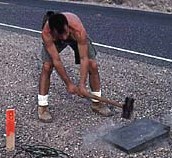 what to do with all these clippings, which you have been adding daily to your blogline folder? reading is one thing, blogging them is another, especially if they don´t fit directly to the main directions of your blog. why not simply comment on them in a periodical review. just for fun.
e. meint immer: ich schau noch ein wenig durch und verschwindet dann auf ewig im konsumtempel. möge es euch ähnlich damit ergehen:
1. narzismus: das ewige nachdenken über die blogger szene ist zwar manchmal hilfreich, viel öfter aber nervtötend. zwischen diesen polen bewegen sich einträge von

moving target [1] und [2],

my little tijuana und

...denn sie wissen nicht ...... reden wir doch einfach über content, mag sich da so manch eine/r ganz im

akademischen sinn denken. andere wiederum sind eher an der ganz konkreten realität interessiert, etwa

petite anglaise oder

randgänge. sauseschritt denkt, dass immer das besonders diskutiert wird, was nicht klar ist: in diesem fall die identität der blogger. sei´s drum. die kontinuierlichen

wettbewerbe nerven auf jeden fall.
2. geschichte: das ist geschichte, winken nur allzugerne die besonders tüchtigen und erfolgreichen ab, um sich wieder dem monetären anal-sinn zu widmen. einige fragen seien aber an dieser stelle zugelassen: wie war das damals (heute?) mit

pinochet; welches entsetzliche jubiläum feiert man in

tschetschenien; wer hätte

dies bei äthiopien gedacht? schließen wir mit dem stoßseufzer: oh, wie hat sich alles in deutschland ost

ost verändert!
3. über den tellerrand zu schauen mag insgesamt hilfreich sein anstatt ewig über globalisierung zu jammern: ins

antlitz der roma etwa oder der

(denkenden) passanten. vielleicht ist auch aufgefallen, dass der kreis der blogger/innen global gesehen ein recht ungleich verteilter ist: ob da ein

digitaler solidaritätsfond helfen wird?
4. kurioses zu guter letzt:

dog-cat content und

die jugendkultur der ösis. für manche (leider) auch

die auseinandersetzung mit claude levi-strauss oder

immanuel kant in teheran.
das war´s dann, weg damit. für nachschub scheint gesorgt zu sein: skip it.