alternative media will be a main feature of the fifth world social forum. shared knowledge, live video and audio transmissions, photos, tv and radio forums and free knowledge laboratories will show the world what is happening at the 5 wsf. here is

more of it!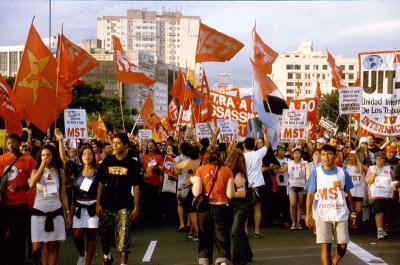 sauseschritt ist davon überzeugt, dass auch diesmal der mediale eintopf den realen hintergründen und ergebnissen des 5. weltsozialforums (26. - 31. jänner 2005) wie üblich nicht gerecht werden kann. warum also nicht sich selbst ein bild verschaffen? entweder direkt bei den

veranstalter/inne/n
in porto allegre (brasilien) oder auf der website von

attac - österreich
, die ab 26.1. eine regelmäßige berichterstattung anbietet. es nicht der mangel an info, der uns entmündigen soll, sondern der überfluss, denkt so manche/r und hat ein stück weit recht.