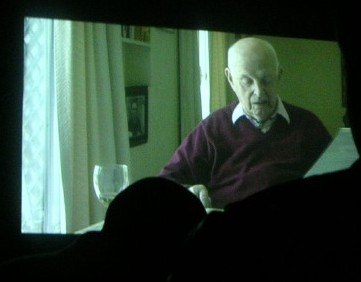 henri cartier-bresson (august 22, 1908 - august 3, 2004) was a french photographer. he was commonly considered the undisputed master of candid photography using the small-format rangefinder camera. considered by most to be the father of photojournalism, cartier-bresson exclusively used Leica 35 mm rangefinder cameras equipped with normal 50mm lenses or occasionally a telephoto for landscapes. along with robert capa and other photographers, cartier-bresson founded

magnum, the first photographic cooperative, in 1947.

more on wikipedia
beim betrachten des filmes von

heinz bütler
über cartier-bresson, indem die großartige isabelle huppert völlig ungeschminkt und ungestylt über seine fotographien spricht, überkommt sauseschritt so etwas wie rührung. die menschen und situationen seiner bilder erscheinen fast schmerzlich wahr und haben den anspruch ewig gültig zu sein. wieder einmal eine großartige

ausstellung des wien museums
: diesmal im rahmen des

monats der fotografie 2004
und in zusammenarbeit mit der

fondation henri cartier-bresson.