when sauseschritt passes the nearby muslim kindergarden, one often tries to imagine what pupils learn there. and visiting the turkish shop, which has replaced the beloved "greisler" on the corner, one gets aware of the gap between how close we live in this district and how little we (want to) know about each other. and there is another observation: how self confident turkish women are in istanbul and how shy and silent in my neighbourhood.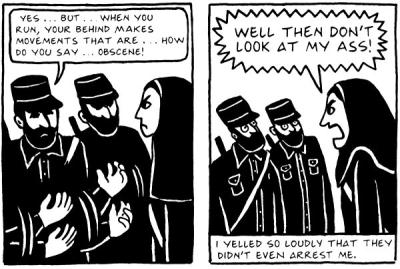 während die aktuelle ausgabe von

le mode diplomatique
einen ausschnitt mit zeichnungen aus persepolis 2, dem neuesten buch von

marjana satrapi
bringt, titelt die neueste ausgabe des

spiegels:
tausende musliminnen leben in deutschland ohne chance auf integration. sie verschwinden in einer parallelwelt, die von fundamentalistischen haustyrannen dominiert wird. kopftücher allerorten. angesichts des mordes an
[theo van gogh ....]
nimmt die auseinandersetzung weiter an dramatik zu. wiewohl auch sauseschritt

grobe versäumnisse und viele blinde flecken in der multikulti - ecke
unserer gesellschaften sieht, täte trotzdem der diskussion sehr gut, sie nicht nur auf musliminnen zu konzentrieren, sondern auf das gesamte phänomen steigender

gewalt an frauen
. wie so oft ist ein klarerer diskurs und ein wenig mehr solidarität gefragt. und bitte kein terrorismus gefasel in diesem zusammenhang!