on 1 november 1755

a tsunami destroyed lisbon and killed between 30.000 and 60.00 of its 300.000 inhabitants. catastrophies and evil is a widely discussed issue not only in the 18 th century (see

voltaire´s famous poem), but also nowadays.

even 9/11 can be easily combined with this issue. edward rothstein writes under the header of "defining evil in the wake of 9/11": it seems all too familiar: on a fall morning in a major city, civilization is disrupted. In less than a halfhour, buildings are destroyed, thousands are killed, the sky turns dark with dust. philosophers and religious leaders invoke the concept of evil. some blame the sinful behavior of the citizenry and cite divine retribution; others believe that civil society will soon restore itself.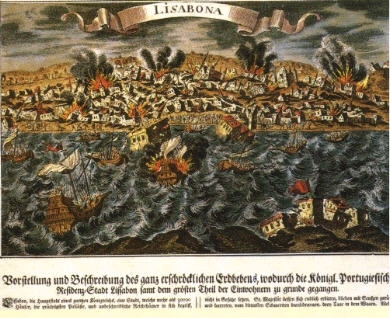 die empfehlungen des
marques de pombal
an seinen könig unmittelbar nach der katastrophe lesen sich wie das kleine einmaleins professioneller katastrophenhelfer: sepultar os mortos (die toten begraben), cuidas dos vivos (für die lebenden sorge tragen) et fechar os portos (die häfen schließen).
---
nun, zugegeben, auf der folie von sauseschritt´s lektüre der zeitreisen der

wiener zeitung
vom wochenende, nahm sich der gedanken an die bevorstehende reise

via venedig
nicht sonderlich beunruhigend aus. aber e. war, ganz pragmatisch und abenteuerlustig denkend, auf die nachricht von der überflutung venedigs sofort mit einem praktischen gedanken zur stelle: dass sauseschritt zu den utensilien seiner dienstreise eigentlich (endlich auch) gummistiefel besorgen könnte.
[damals ...]
wären ja auch welche benötigt worden und hätten erst ausgeborgt werden müssen. wir gewöhnen uns an die katastrophen, denkt sauseschritt nicht zum ersten mal, diesmal aber zugegeben ein wenig erheitert ....