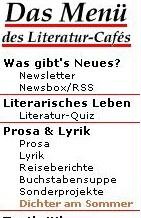 wie man/frau weiß, ein oft sensibles unternehmen. und oft von unterschiedlichster qualität (*verhaltenes grinsen*):
schreiben sie auch reisetagebücher, in denen mehr zu lesen ist, als die wassertemperatur und der tägliche wetterbericht? wäre es nicht etwas ganz besonderes, wenn Ihre erlebnisse weltweit zu lesen wären? wir bieten ihnen hierzu die gelegenheit! egal, ob sie im club-urlaub auf mallorca waren (was gibt es da alles über die miturlauber zu lästern) oder in die einsamkeit der wildnis kanadas fliehen, wir freuen uns ueber ihren bericht.
was wie eine gefährliche drohung klingt, kann auch in qualität umschlagen. sauseschritt wünscht dem

literatur cafe
ein sensibles händchen. wer allerdings lieber in gedichten unterwegs ist und auf altbewährtes schwört, dem/der seien hörproben von

frühlings-
und

sommergedichten
von hölderlin bis trakl empfohlen. vielleicht auch, um ein wenig der von liisa verbreiteten

herbstatmosphäre
entgegenzuwirken! wer sich allerdings für den winter vorbereiten will und dabei das lesen will, was er sich immer schon an lesestandard vorgenommen hat, dem/der sei die lobenswerte

aktion
der süddeutschen zeitung empfohlen.
---
p.s.: am tag nach obigem eintrag sind die hörproben von

herbsgedichten
an selber stelle erschienen!
again in vienna: what is the name of this place?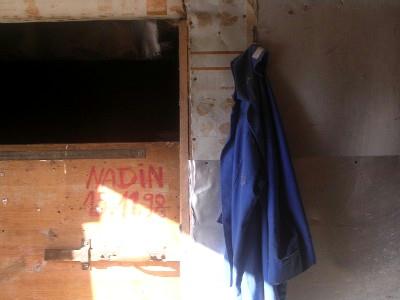 wieder ein rätsel und auch diesmal fast nur für wiener/innen lösbar. nach den fragen nach der
[rossauer brücke ....]
und dem
[augarten ....]
nunmehr eine nach einem der ältesten abgabestellen von biologischen produkten in wien. ach ja, den namen, nur den namen sollt ihr nennen. voilá, werte kolleg/innen!
© all photos of this entry are taken by the author and explicitely subject to the GNU free documentation license