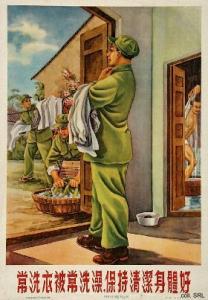 again three men, but this time for the old times sake: some finissage of posters of real socialism, which some of us might smilingly enjoy. but this entry might also serve as a hint for those which read this blog. sauseschritt will soon disappear in north western russia and for sure be travelling the belamorska and volga-baltisca waterway. more later ....
den hinweis auf

chinesischen plakat retro
verdankt sauseschritt

jimmiz journal
. da schon in der nächsten woche mein blog allerhöchstens aus nord - west russland bedient werden kann, soll auch die

sowjetische plakatkunst
nicht zu kurz kommen. wer davon noch immer nicht genug bekommen hat (warum eigentlich haben wir uns vor zeiten gelegentlich verrannt? weil wir damals jung, dumm und noch guter hoffnungen waren?), der/die verbringt mit

titoville
möglicherweise besinnliche stunden. was heute so heimelig sentimental erscheinen mag, war immerhin politische auseinandersetzung damals. nie maoist, trotzkist oder titoist gewesen?