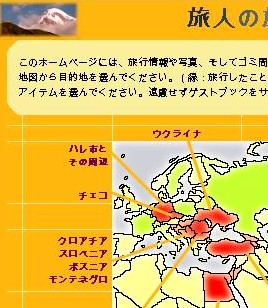 one of the rare websites offering travel information on the balkans:
tabibito is japanese for "traveller". this page is about individual travel through europe (balkans!) and asia providing an overview on culture, history, language and useful information on backpacking. (...) the english version of this homepage is still very poor and under construction,
writes tabibito in the intro of his/her website.
wenn es die referer nicht gäbe! sauseschritt entdeckt

den balkan neu
bei tabibito. keine philosophische site, aber mitunter sehr akribisch. als erster einstieg hilfreich für alle, die südosteuropa bereisen wollen. und das sogar auf japanisch!
---
immerhin: wer in serbien oder bosnien-herzegowina unterwegs war, findet hier sehr viele öffentliche verkehrsmittel, die von japan zur verfügung gestellt wurden und dies mit großen aufschriften auch deutlich zeigen. teile der

japanischen entwicklungshilfe für den balkan
wird übrigens von der japanischen botschaft in wien abgewickelt. und so ist es von japan in den balkan gar nicht so weit ...