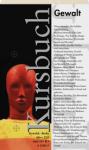 three centuries of war pictures: the essay of wolfgang sofsky (german language only) gives three examples on how cruelity can be tackled by drawing and fotografing.
sauseschritt empfielt das

kursbuch 147: gewalt
wiewohl oder vielleicht gerade weil dieses heft schon im märz 2002 erschienen ist, eine lohnenswerte leseaufgabe.
etwa der aufsatz des göttinger soziologen und publizisten, wolfgang sofsky, zum thema kriegsbilder. er vergleicht darin darstellungen vom krieg bei

francisco goya
(
desastres de la guerra
),

otto dix
(
der schützengraben 1923, der krieg 1924
) und dem fotografen

james nachtwey
(
el salvador 1984
) und geht dabei von folgender prämisse aus: ... die vorwürfe gegen die detailgenaue darstellung der gewalt sind so altbekannt wie fadenscheinig. als sei es die aufgabe der ästhetik, die seele vor dem unerträglichen zu bewahren, das gemüt zu reinigen, illusionen zu nähren, zur rechten moral zu erziehen oder allem, auch dem schlimmsten, noch einen sinn anzudichten. die kritik der ästhetik der grausamkeit verwechselt die vermeintliche obszönität des bildes mit der obszönität der tatsachen.
skandal in wien brigittenau: weiblicher ninja entführte gartenzwerg - kater weidet sich am elend des opfers. von täter und opfer keine spur. die hinterbliebenen sind verzweifelt, die polizei ist wie so oft völlig machtlos.
© all photos of this entry are taken by the author and explicitely subject to the GNU free documentation license