people close in lower austria still remember the flood of 2002 very well. but yesterday, in the

evening news of orf, the heavy rainfalls in southern austria seemed to be tackled in a rather unexcited, daily business - like manner. it seems that we really have become used to the worldwide catastrophies due to climate changes. but people whisper .....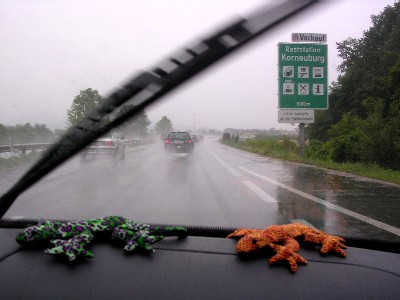 am wochenende lauscht sauseschritt in einem heurigen bei krems den gesprächen der einheimischen bevölkerung, dem x. etwa, der mit seiner familie im kamptal wohnt und 2002 vom

jahrhunderthochwasser
betroffen war. er beschwert sich über die evn und die verantwortlichen des kraftwerkes ottenstein, die schon letzte woche die schleusen wieder einmal später als sinnvoll geöffnet hätten. er beklagt, dass die verantwortlichen aus der katastrophe von 2002 nichts gelernt hätten. andere stimmen zu. kein wienerisches raunzen, vielmehr nüchterne feststellungen von menschen, die mit den auswirkungen von unwetterkatastrophen zu leben gelernt haben. heurigen/stammtisch - gespräche? pegelstände der donau gehören in dieser gegend ohnehin zum täglichen gesprächsstoff. am nächsten tag verstärken sich im laufe des tages die regenfälle und auf der rückfahrt nach wien sind wir selbst betroffene der wieder einmal entfesselten unwetter.
© all photos of this entry are taken by the author and explicitely subject to the GNU free documentation license