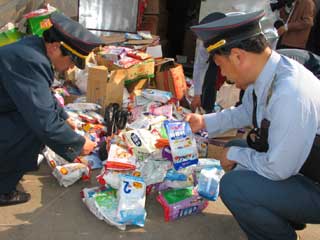 at least 50 chinese babies have died and more than 100 are severely malnourished after being fed fake milk formula, it was reported yesterday amid growing concerns about counterfeit food and medical products in the poorly regulated country.

reports the guardian.
Ich fühle mich an die achtzigerjahre erinnert, als der nestle konzern wegen seiner trockenmilchkampagnen in der sgn. dritten welt heftig angegriffen wurde.
auf deutsch in der

faz :
für die bauern in der provinz anhui ist es die "großkopf-krankheit". knapp 200 säuglinge in ostchina sollen seit vergangenem jahr wegen des schlechten milchpulvers erkrankt sein. mindestens 13 babys, zuletzt han qin an diesem montag, sind nach angaben der staatlichen nachrichtenagentur gestorben. zeitungen in der provinz anhui sprechen von mehr als 50 todesfällen.