internet under surveillance in 60 countries of the world
in dem umfangreichen bericht

dokumentiert reporter ohne grenzen
die zum teil massiven versuche von regierungen in 60 ländern das netz in fesseln zu legen: unliebsame seiten werden herausgefiltert und blockiert, internetcafes beobachtet, providern lizenzen entzogen, nutzerinnen, nutzer und journalisten überwacht, eingeschüchtert, schlimmstenfalls sogar hinter gittern gebracht.
zum
(welt presse tag ...)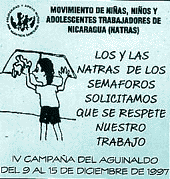 we are working children. why does the government want to send us to beggars' colonies?
this is a quote from the working children report available on

workingchild.org
sie haben die nase voll. davon, dass erwachsene immer meinen, besser zu wissen, was gut für sie ist. sie arbeiten, und dafür erwarten sie respekt. sie wollen mitbestimmen und nicht ständig als problem definiert werden. in über 25 ländern asiens, afrikas und lateinamerikas existieren inzwischen organisationen arbeitender kinder. als ort für ihr zweites

welttreffen
haben sie sich ganz gezielt für berlin entschieden: endlich sollen ihre anliegen auch in industrieländern wahrgenommen werden, nachdem das erste welttreffen in indien vor acht jahren kaum beachtung auf der nordhalbkugel fand, berichtet die

taz.