the first international balkan festival in vienna presents music of the following musicians and bands:

go for it!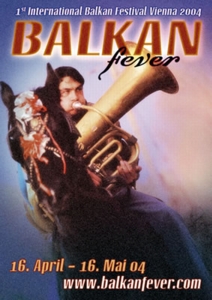 fernab von sozial- und kulturromantischen projektionen, die sich gerne den "wilden südosten" als eine infantil-überdrehte und idyllisch-zurückgebliebene kusturica-world imaginieren, möchten wir mit dem festival ein anderes, repräsentativeres bild vom balkan vermitteln: als ort ständiger kreativer modernisierung. als ort einer wohl einzigartigen übertragung traditioneller formen in jazz, als ort, wo völlig neue hybride entstehen, wo avantgarde sich durch die kraft des archaischen auflädt und das archaische noch so jung und ungestüm ist, dass es gleich einige entwicklungsstufen überspringt ..., meint etwas exaltiert das

veranstaltungsprogramm
und spricht von musik an folgenden veranstaltungsorten in wien: tunnel, porgy&bess, sargfabrik und wuk. trotz der sprachlichen verwirrung der texter: hingehen, zuhören, den mentalen europabegriff erweitern !