sometimes it is boring to stick to your mental neighbourhood only: so again some more blogs from asia (china and japan)
immer nur studentisches kleinklima auf deutschen und österreichischen serviceprovidern? oft ist es schöner woanders, eben da: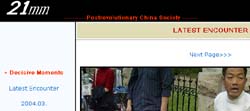 do moblogs interfere with your right for privacy, asks the austrian newspaper der standard.
moblogs und das ende der privatsphäre: fotohandys führen auch zur raschen - und meist unerwünschten - verbreitung von schnappschüssen
, fürchtet sich

der standard.
paparazzi & co als fest für die massen? damit noch nicht genug: weil nun auch fotos per mobiltelephon versandt werden können, spricht die selbe zeitung von

killer application.
tja, wenn der tag lang wird und die neukunden rar .....

while millions of text-driven blogs have blossomed worldwide, there are only a couple hundred video blogs out there.

reports jeffrey ressner in time.
und sauseschritt lernt einen neuen begriff für das allgemeine name dropping: vlog für videoblogging !