what can we do during easter holidays? maybe visit the asian blogger scene and especially a photoblog which immediately reminded sauseschritt of the works of chris marker, e.g. sans soleil .....
jetzt, wo das bloggen im deutschsprachigen raum darniederliegt und die zugriffe ins bodenlose sinken, wo alle dem unvermeidlichen grün in der natur nachspüren, kann dem netz nur besonders schönes helfen.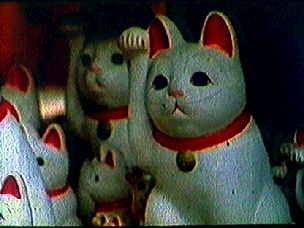 er schreibt mir aus japan, er schreibt mir aus afrika. er schreibt mir, daß er nun den blick der dame auf dem markt von praia festhalten kann, der nur so kurz war wie ein bild.....
vielleicht also ein netter ausflug zur bloggerszene nach

asien?
dort hat ein fotoblog aus japan sauseschritt besonders inspiriert, wenngleich der name ein wenig abgeschmackt wirkt und darin ein kollege aus den usa werkt:

sushicam
. wer immer chris markers film

sans soleil
gesehen und genossen hat, weiß, wovon sauseschritt spricht. und wer mit dem name dropping nichts anzufangen weiss, probiert es eben ......