veloce on strike !

die abeiterInnen vom botendienst veloce in wien führen ihren kampf weiter. nach dem warnstreik am 25. märz kam es am 1.april erneut zu kampfmassnahmen der arbeiterInnen. somit ist es erstmals in österreich zu einer solidarischen kampfaktion von prekär beschäftigten gekommen.
- soweit der kommentar auf

indymedia österreich
.

one of the many articles on the estancia haberton, always approriate for a weekend supplement, this time from

usnews:
Science on the frontier (estancia haberton, tierra del fuego, argentinie): at a time when science is dominated by Ph.D.'s in high-tech labs, this cake-baking grandmother is a rare old-style naturalist. Holding only a master's in biology and using few tools more sophisticated than plastic tubs and toothbrushes (she has no telephone, and electricity only a few hours a day), Goodall braves fierce winds, long winters, and foul smells to gather vital data on worldwide worries such as the impact of modern fishing on dolphins and whales and the effects of global warming.

eigentlich hat sauseschritt über den clan der bridges and gouddals schon sehr viel gesagt, deshalb
[hier mehr....]

crazy globalisation: elefant garlic from patagonia in vienna. .... milder with bigger cloves, easy to peel and perfect with every meal, attributes of this unique garlic grown in patagonia, argentinia ........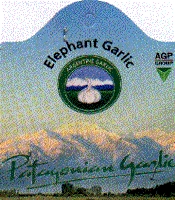 an argentinische zitronen hat sauseschritt sich ja im merkur markt schon gewöhnt. jedoch als patagonischer knoblauch den aus china importierten ablöste, verlor ich schon ein wenig die fassung ob der schrillen perversität von globalisierung. schon damals im fall des chinesischen pries so manche/r die einfachheit, mit dem die riesendinger zu verarbeiten wären. trotzdem: sauseschritt ist erschüttert ......
das etikett, das das kapitalistische monstrum umgibt, verweist auch noch auf die möglichen anderen absatzräume: ajo elefante, aglio elefante, ail eléfant, elefanten knoblauch, elefant garlic, ajo elefante, elefantvitlök, olifanten knoflook und zuguter letzt auch noch die japanische variante. arme welt, die des argentisnischen und chinesischen knoblauchs bedarf......
ach ja, auch eine rückfragemöglichkeit entnehme ich der verpackung. die agp group aus buenos aires ist unter
caludio schejter
erreichbar.