radovan karadzic, the leader of the bosnian serbs during the 1992-1995 bosnian civil war, is an indicted war crimes suspect who has been on the run for nine years. here are the key events in the

search for him.
we should also have a closer look at the

war crimes tribunal in den haag as slavenka drakulic did in her latest book.

während also die liste der vergeblichen versuche der nato immer länger wird, kann man/frau sich fragen, warum dem so ist und wem daran gelegen sein mag. auf alle fälle lohnt dabei auch ein abstecher zum kriegsverbrecher/innentribunal nach den haag, diesmal aus sicht von slavenka drakulic, die dort 5 monate lang recht genaue beobachtungen angestellt hat. den hinweis auf ihr buch

keiner war dabei
verdankt sauseschritt der letzten beilage zum bücherfrühling, die ihm der

der falter
beschert hat. der rezensent patrick volf führt dazu näher aus:
"Doch das Problem ist", gesteht Drakulic? selbst zu, "dass niemand laut und deutlich die Wahrheit sagen will. So wie auch niemand sie hören will." Wer es dennoch tut, gilt im besten Fall als Nestbeschmutzer, im schlechtesten als Verräter.


tv retro: comeback of detektive derrick?s voice evokes uneasy feelings for sauseschritt. why again being reminded of this famous german serial killer and television star?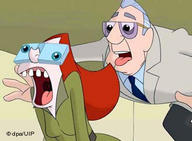 24 Jahre lang kämpfte Inspektor Stephan Derrick im Fernsehen gegen das Verbrechen in München. Jetzt ermittelt er im Kino - als Comicfigur. Tappert, Trenchcoat und Tränensäcke sind wieder im Einsatz. meint die

deutsche welle
und verweist in ihrem artikel auch auf die unvermeidliche website:

derrick: the movie
. mich jedenfalls hat es heute morgen schwer getroffen, als ich um acht uhr auf Ö1 wieder die stimmen von derrick und knecht harry hören musste, angereichert mit unverkennbarem alterstimbre, das vermutlich auch den trickfilm verschönern wird. das halbe leben haben die beiden mich begleitet und dabei alle piefke - vorurteile, die ein tourismusgeschädigter österreicher zu haben vermag, in pawlowschem stil verstärkt: und nun der film, nachdem sauseschritt die beiden schon fast wieder vergessen hat. too much!