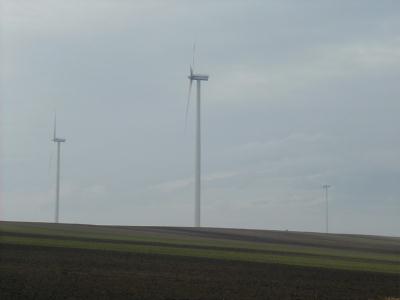 windräder auf der parndorfer platte
unschuldig stehen sie in zehnerschaften auf der parndorfer platte herum, drehen sich brav zum wohl der energiebesessenen gesellschaft und werden dann auch noch mit kritik bedacht. potthässlich, die dinger, denke ich und kann mich nicht mehr erinnern, wie die gegend um parndorf früher, ohne windräder und outlet center ausgesehen hat. selber schuld !
zufällig auch eine kleine randnotiz in der wiener zeitung, rubrik länderspiegel dieses wochenende:
wenig freude mit windrädern:
das burgenland will seine spitzenposition im naturschutz weiter ausbauen. über den dichter werdenden windräder-wald im nordburgenland zeigt sich der naturschutzreferent, durchwegs ein verfechter umweltfreundlicher energie, aber nicht begeistert. die weite der parndorfer platte sei damit verloren gegangen, meinte er.
und aus dem

standard
weiss ich, dass dieser sgn. energiepark im endausbau um die 200 windräder umfassen wird. heute sind es zirka 130.

und der spiegel motzt ebenfalls:
Eine brutalere Zerstörung der Landschaft, als sie mit Windkrafträdern zu spicken und zu verriegeln, hat zuvor keine Phase der Industrialisierung verursacht.

Two for the road: Our two winners, Jim Whyte and Sonia Sudhakar, have set off around the world. Find out how Sonia's getting on in South America and how Jim coped with the Arctic gloom. Plus, read their accounts of their final preparations as they packed up their lives for four months.
wirklich lohnenswert die lektüre des online guardian.

sonja und jim erzählen von ihren weltreisen.
der vergleich mit anderen travelblogs macht sicher: gute reportagen!