dear cousin !
here are some of my recommendations for southern chile.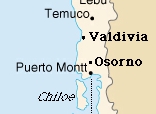 valdivia

osorno
valdivia, maybe:




or the region around the vulcanoe osorno: the village of villarica is recommendable


unfortunately not too many fotos from that wonderful region of lakes, but if you want to have a better picture go to

villarica pictures on google
and here is a more detailed map of the region:

never stay at pto. montt except you have a passion for ugly and depressing cities.
for planning your trip via airplane go to

lanchile
for more information on southern chile, go to the homepage of the official tourism agency

sernatur
. they only offer information and you cannot book there.
as you might know, my chile pages are updated, but still available only in german:
[more ... ]
Good luck and all my best
cousin g.
man/frau muss sich ja nicht unbedingt ein öffentliches tagebuch wie jenes von karl-markus gauß aus dem jahr 2002 zum vorbild nehmen. die eigenen einträge ins weblog mit dem buch

von nah, von fern
zu vergleichen, wäre vielleicht nicht nur überheblichkeit, sondern auch formal falsch. denn was uns ausmacht, ist nicht literatur, sondern .... ja, was ist es eigentlich?
vielleicht nicht gerade das, was sich

e-media
in seiner dritten nummer des jahres 2004 vorstellt. wie meint jene/r autor/jene autorin, der/die sich berechtigt fühlt, über den
community - kulthit (sic !!!)
zu berichten:
neuer trend: weblogs.
schon 10.000 österreicher teilen ihre intimsten gedanken mit der internet-gemeinde: sie führen öffentlich tagebuch im world wide web. worüber sie schreiben. und warum so viele mitlesen
nach lesen des artikels, der sich ausführlich mit einem eigenartigen segment von usern auf
twoday
und
antville
beschäftigt, stellt sich bei mir jene übelkeit ein, der mich in letzter zeit so oft bei der konsumation österreichischer massenmedien überkommt. die attitude, die sprache, der voyeurismus und die dummheit der machwerke sind oft unerträglich.
und wenn schon meine intimsten gedanken, dann vielleicht jene bezüglich e-media:

....... dass stumpfsinn wie e-media aus leser/innenmangel bald eingestellt werden muss oder uns mit redaktionellen belästigungen in zukunft verschont........
P.S. twoday diskutiert schon, auf dem blog eines

opfers von e-media
(dem widerspricht aber die genannte, eigentlich)